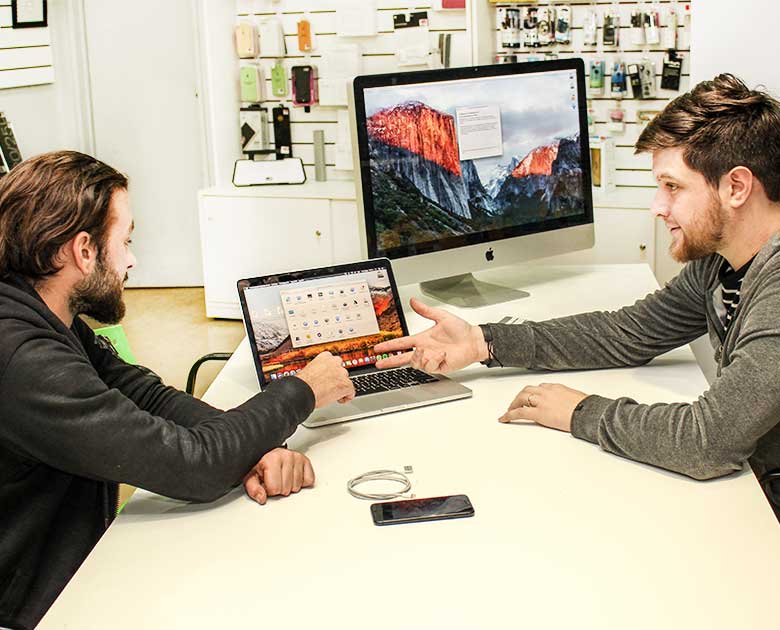 Apple was the first major brand to launch a self-repair program for its customers back in April 2020, which allows customers to order genuine spare parts and tools and read instructions and access manuals from the self-service repair website. This is something we all thought we would never see, Apple selling parts and tools to the public. Is there a catch? Well, let's find it out by understanding how the service works and more.
How Does Apple's Self-Repair Program Work?
Apple provides step-by-step guides to help customers through the process.
Users can repair the latest iPhone device series, including the iPhone 12, 12 mini, 12 Pro, & 12 Pro Max, iPhone 13, 13 mini, 13 Pro, &13 Pro Max, and iPhone SE (3rd Generation).
Eligible phone parts you can order include the battery, bottom speaker, camera, display, sim tray, and taptic engine.
The repair program covers Apple's Mac books as well. Eligible Macs include the MacBook Air(M1, 2020), the MacBook Pro(13-inch, M1, 2021), and the 13-inch and 16-inch 2021 MacBook Pro.
Users will have to contact the Apple technician(through customer support) for system configuration. This is the calibration process that allows the software to work correctly after a part of the phone has been replaced. If you don't, there will be error notifications about unknown parts in the settings or the replaced parts not working.
How Much Does it Cost?
You can buy just the replacement parts.
A display replacement bundle costs $269.95 for the iPhone 13, without the repair tools. Users can purchase the repair tool from Apple or rent it for a fee of $49..
Other replacement parts like the batteries, SIM tray, and bottom speakers are much cheaper, ranging from $70, $7 to $38 depending on the phone.
Availability
The Apple self-repair service is only available in the US. Later this year, Apple said it would expand its iPhone self-service repair program to European customers, with other regions to follow suit.
Samsung Self Repair Programs
Samsung announced the launch of a self-repair program earlier this year in partnership with the well-known repair guide company Gemwon. The full arrangement and more details on the partnership are yet to go live. However, here are all the details we know from the official launch:
How Does Samsung's Self-Repair Program Work?
The company will initially only sell parts for the Galaxy S20, S21, and Tab S7 device lineups.
An individual can purchase Samsung replacement parts and tools to repair the screen, charging port, and back glass on all phones.
The self-repair program does not provide a replacement battery for Samsung phones. Instead, you may purchase an entire display assembly with a permanent battery glued to it. Phone components such as screens, back glass, and charging ports are eligible for replacement.
Samsung will provide step-by-step guides to help customers through the process.
How Much Does it Cost?
The screen and battery replacement kits for the Galaxy S21 and S21 Ultra cost $167.99 and $239.99, respectively.
You can purchase just the replacement parts or a complete repair kit with all the necessary tools.
Charging ports and rear glass are among the cheapest replacement parts, ranging from $67 to $77 depending on the part and the phone.
Availability
Samsung hasn't specified availability in its press release of the Gemwon partnership, but it is most likely to be North America-focused as well.
Google Pixel Self Repair Programs
Back in April 2022, Google announced that, just like Apple and Samsung, they will offer self-repair programs to fix Google Pixel devices. Unlike Apple, Google partnered with Gemwon and managed to keep things quite basic. Not every part of the Pixel is available yet, but the common ones are, and you can head over to the Gemwon Google Pixel portal to order the spare parts you want.
As a cherry on top of the partnership, Gemwon is offering wholesale parts for fixing Google's all Pixel phones If you are a repair shop.
How Does Google's Self-Repair Program Work?
Eligible phone parts available include the display, battery, and camera.
The supported phones start from the Google Pixel 2 upwards, including the unreleased Google Pixel phones. Future Pixel phones will also get repair kits as well, which is impressive.
You can buy just the replacement parts or the complete fix kit with all the tools needed for repair. Those kits will come with genuine Google parts and, in some cases, tools and instructions from Gemwon Phone-Part.com.
How Much Does it Cost?
The most expensive part is the Google Pixel 6 Pro screen, which comes with a repair kit at about $200.
Other replacement parts like the battery and screen are cheaper, ranging from $43 to $70 depending on the phone and part.
Availability
Google's self-repair program is available in the United States, the United Kingdom, Canada, and Australia. It is also available in the specific European countries where Pixel is available.
Access to spare parts doesn't guarantee you'll be able to fix your smartphone, even if you really want to. The manufacturer's are trying to make the program as unfriendly as possible to deter users and it doesn't financial sense at times as well. Share with us in the comment section your reactions to how the phone manufacturer's are approaching the self-repair programs and if you would DIY repair your phone.
Related Posts